The advantages and disadvantages that a buyer need to know before purchasing Mkeka wa mbao vinyl flooring .
DiSADVANTAGES 
1. Mkeka wa Mbao™️ doesn't like moisture from  underneath and flooding , though it's water proof on the surface the weakest point is water going under its surface, if flooding occurred you need to  uninstall your Mkeka wa Mbao™️ dry it and re install it back . 
  Here are signs of water damage 👇🏽
   A. If glued the adhesive will become loose and the floor will bubble .
  B. Blackish  spots will form on the Decorate  surface.
  For areas with black cotton soil or swampy areas make Sure the moisture content Is the recommend one before installation .
First, test the moisture level of the subfloor. In general, 12% moisture or above is too wet to install flooring Ideally it should be between 7% and 9%. Take the readings in at least 20 spots per 1,000 square feet of flooring and average the results.
Mkeka wa Mbao cannot be installed on rough uneven surface the Subfloor must be smooth and level and if covering tiles with grouting joints fill the joint first.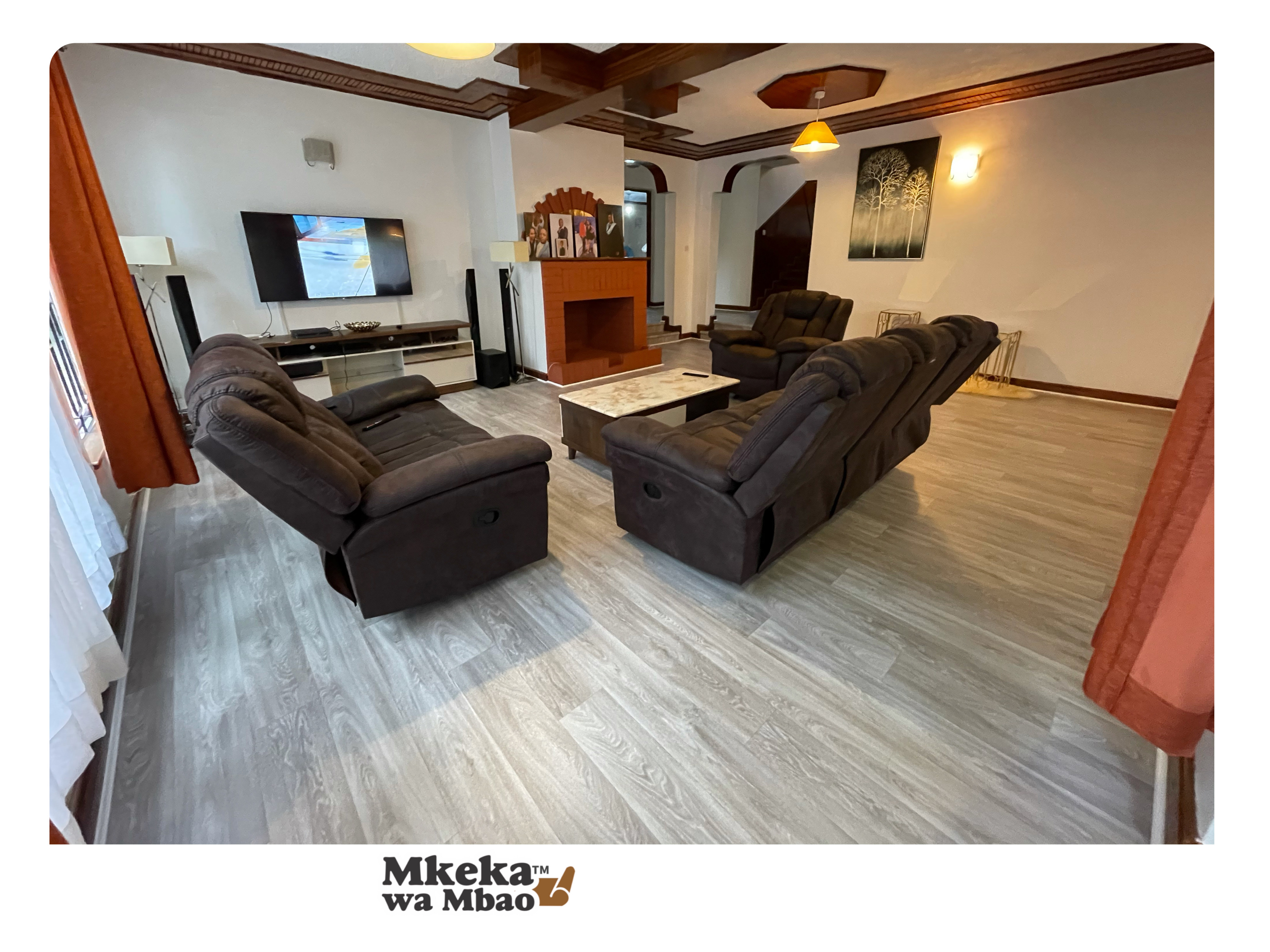 Buy the correct wear layer for your needs (foot traffic )
What is the wear layer for Mkeka wa mbao™️ vinyl flooring?
When shopping for Mkeka wa mbao™️ vinyl flooring, all of the terms can be hard to keep track of! One question that gets asked most often is, what is the wear layer of Mkeka wa mbao™️ vinyl flooring? This is a very important question to consider when purchasing Mkeka wa mbao™️ vinyl flooring.
So What is the Wear Layer?
Put simply, the wear layer is the top surface that provides the durability, stain and scratch resistance of vinyl flooring. The wear layer is usually a clear, urethane based coating that keeps the original appearance of the floor and provides easy maintenance. With new technology, some vinyls now offer added durability layers on top of the wear layer for even more surface protection.
Wear layers range from 0.15mm to 1mm . The wear layer will usually be recorded in millimeters MM . 
Which Wear Layer Measurement is Best?
To decide on the best wear layer, you will need to determine the usage of the flooring. If you have pets, kids, or there is a lot of foot traffic in your home or workplace, you should opt for a thicker wear layer.
In short, the thicker the wear layer, the more durable the floor. If you have a space that will need a high resistance to scratches and wear, a higher wear layer, such as a 0.40 up to 0.70mm, would be best for your application.
Residential vinyl flooring applications start from 0.15 mm to 0.30mm . 
Light commercial vinyl flooring application start from wear layer of 0.40-0.55
Heavy Commercial vinyl flooring applications will usually require a 0.60mm – 1mm top layer.
Beware of buying cheap flooring without knowing the wear layer ( some vendors do that ) use a digital caliper at floor decor to check wear layer .
f. Use the recommended cleaning detergents some soaps are very abrasive avoid them (use liquid soap genuine ) remove
Stains with Acetone .
g. Use an accredited installer to install factor for waste when measuring your floor area 5% .
ADVANTAGES 
It's warm and soft to walk on zero allergy doctors recommend for people with athritis , elderly and children .
COMFORT & WARM TOUCH
The cushioned nature of Beauflor® mkeka wa mbao cushion vinyl floors make them a pleasure to walk upon, they feel warm to the touch and are ideal for barefoot walking. Moreover, the good heat conduction of our vinyl floors make them the ideal match for your floor heating.
It's easy to install no adhesive in most
Cases making it ideal
For home owners rented or owned , offices and you can move out With your floor in the future 
👉🏾 FLOOR PREPARATION REQUIRED TO INSTALL MKEKA WA MBAO
For new construction the subfloor should be finished smooth screed popularly know as Nil finish.
Existing homes you can cover any type of subfloor like tiles , terrazzo or even wood flooring .
Remember installation is very easy it can be lay loose technology or glue down for commercial spaces like offices ,schools etc .
If in a rented premise you can move out with your mkeka wa mbao if it was installed using lay loose installation procedure .
Amazing designs NATURAL WOOD & TILE LOOKS
Whether you love the warmth and cosy aspect of wood, or you're fond of the boldness and character of tiles, give your interior the classic look of wood or tile without the disadvantages of natural materials. With Beauflor® mkeka wa mbao cushion vinyl rolls, you can produce any imaginable design and colour; from the most natural wood or tile to the most extravagant and inspirational texture.
LOW MAINTENANCE
Our Beauflor® mkeka wa mbao cushion vinyl rolls are very low-maintenance. Thanks to an optional protective polyurethane lacquer, the floor is easy to clean and protects it against daily wear and tear. All it needs is an occasional sweep with a wet mop and standard cleaning products.
EASY ON THE POCKET
Cushion vinyl rolls are less expensive to produce than other floorings, making them easier on the pocket.
EXTREME DURABILITY
Beauflor® mkeka wa mbao Cushion vinyl floors are protected by a very hard wearing surface. The resistance of vinyl to staining and general household use is one of the key benefits of vinyl floors and makes them one of the most durable types of floorings on the market.
SUPER SSSSSSILENT FLOOR
Whether you are walking around in your high-heels or feel like having a lazy day in your slippers, our Beauflor® mkeka wa mbao cushion vinyl absorbs noise so well that it is up to 50% more silent than comparable floors! This makes them the ideal flooring solution for apartments or other spaces where noise absorption is very important.
For more visit www.floordecorkenya.com
https://floordecorkenya.com/wp-content/uploads/2021/06/floordecor_kenya_mkeka_wa_mbao_logo.png
244
805
floordecor
https://www.floordecorkenya.com/wp-content/uploads/2018/01/logo_floor_decor.jpg
floordecor
2021-07-22 11:45:55
2021-07-22 11:47:37
Disvantages and advantages of Mkeka wa Mbao flooring