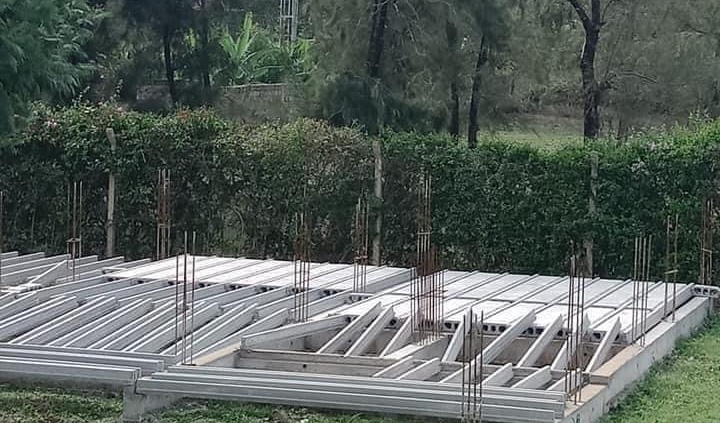 CUT COST  by 50% BY USE OF   SUSPENDED FOUNDATION.
Constructing on Black cotton soil in Kenya.
Black cotton soil is found abundantly in most regions in Kenya.
Black cotton soil tends to soak water during the rainy season and expand and shrink during the dry season.
This expansion and shrinkage creates up and down movements on the ground floor slab, resulting to cracks, wall paint peel off , due to moisture some ceramic tiles discolor and Vinyl floor (mkeka wa Mbao ) get black spots on Surface .
To prevent this cracking, the black cotton soil is either excavated at a minimum depth of 1m or the building foundation raised and suspended above the ground level.
1.5m minimum depth.
Generally, if the black cotton soil is more than 1.5m in depth, its uneconomical to excavate it.
This requires a suspended type of foundation whereby columns are dug till solid rock and protrude slightly above the ground level.
BBF flooring (beam 2 beam flooring system ) is the way to go to cover the suspended foundation .
BBF flooring eliminates
☀️zero Timber  (no form works)
🌟zero Rebar use
🌟No 21 days curing ( BBF flooring system installed within hrs / day and start plastering works and brick works .
🌟Saves water .
Savings up to 50%
To learn more visit https://www.floordecorkenya.com/beam-2-beam-flooring-system-bbf/
https://floordecorkenya.com/wp-content/uploads/2021/02/IMG_2708.jpg
960
720
floordecor
https://www.floordecorkenya.com/wp-content/uploads/2018/01/logo_floor_decor.jpg
floordecor
2021-02-07 05:47:48
2021-02-07 05:49:11
Constructing on Black cotton soil in Kenya