PERGO® invented laminate flooring 35 years ago. A floor that combines beautiful design and long-lasting durability like no other. PERGO® laminate floors are made to withstand years of use and still look beautiful. Now you can shop PERGO® wood laminates and PERGO® Luxury Vinyl Tiles at all Floor Decor Kenya showrooms around the country – Nairobi, Nakuru, Eldoret & Kisumu.
Why choose PERGO® laminate flooring?
• PERGO® boasts of Superior wear performance and wide selection of beautiful, Realistic designs.
• PERGO® is Resistant to scratches, stains, impacts and everyday wear and now resistant to water as well with the new PERGO® Sensation!
• PERGO® is Unique in quality and performance – offering LIFETIME Warranty on flooring
• PERGO® is Easy to Install
• PERGO® is Simple to maintain
BENEFITS OF LAMINATE FLOORING:
What's not to like about laminate flooring
Laminate flooring is quite possibly the best all-encompassing package for your decorating dollar and perfect for busy families who want low maintenance flooring. Check out this impressive list of benefits:
Laminate flooring is extremely durable
Durability Test – Over Half a Million People walk on Pergo Public Extreme Laminate
Protected by a tough external layer and resin coating, a laminate floor is much stronger, and more scratch-resistant, impact-resistant and longer lasting than any hardwood, vinyl, or carpet. It's virtually resistant to dogs, cats, kids and even high heels.
Laminate flooring is stain, fade, and moisture resistant
Most laminate flooring manufacturers offer extensive warranty protection against stains, fading, and moisture damage. Hardwood floors, on the other hand, are subject to wood grain staining, fading in sunlight, and can scratch and dent easily.
Laminate flooring is easy to clean and maintain
Laminate's superior stain and moisture-resistant surface coating makes spills and other messes easy to handle. This special surface doesn't require waxes or varnishes to keep it looking great.
Laminate flooring is easy to install
The introduction of glueless laminate floors revolutionized ease of installation in the industry. Not only are the flooring sections smaller, designed to interlock, and easier to work with, but laminate floors can also be installed over most non-textile existing subfloors. In this "floating floor" method of installation, the laminate floor is laid or "floated" over the existing subfloor without being glued to the surface. This saves considerable time and installation cost. Moreover, laminate floors are easy to un-install and replace quickly and easily when it's time for a style update.
Laminate flooring is economical
Not only is laminate flooring generally less expensive than other hard surface floors to start with, but when its durability and longevity are considered, it becomes a particularly economical choice.
Laminate flooring offers a variety of styles
While many laminate floors simulate the authentic look of hardwood or stone, the possibilities for new styles and colors are limitless. A variety of color tones and patterns enable you to match the floor with the exact mood and style of your room, whether it's rich and elegant or cool and contemporary. We think you'll be pleasantly surprised by the availability, realism and quality of today's laminate floor styles.
Laminate flooring is environmentally friendly
Laminate flooring is made from wood and wood by-products, and does not involve the harvesting of rare or endangered trees. Learn more about the sustainable benefits of laminate flooring here
PERGO® Sensation
The ONLY Water Resistant  Laminate!
In 2016 PERGO® took the concept of the laminate floor one giant step further with the introduction of Sensation. PERGO® Sensation is a water-resistant laminate flooring that features authentic, true-to-nature surface is made possible by an innovative technique that can reproduce deep grooves of wood to perfection. The natural look is enhanced by a brand new matt finish, that adds to the wood-like feeling.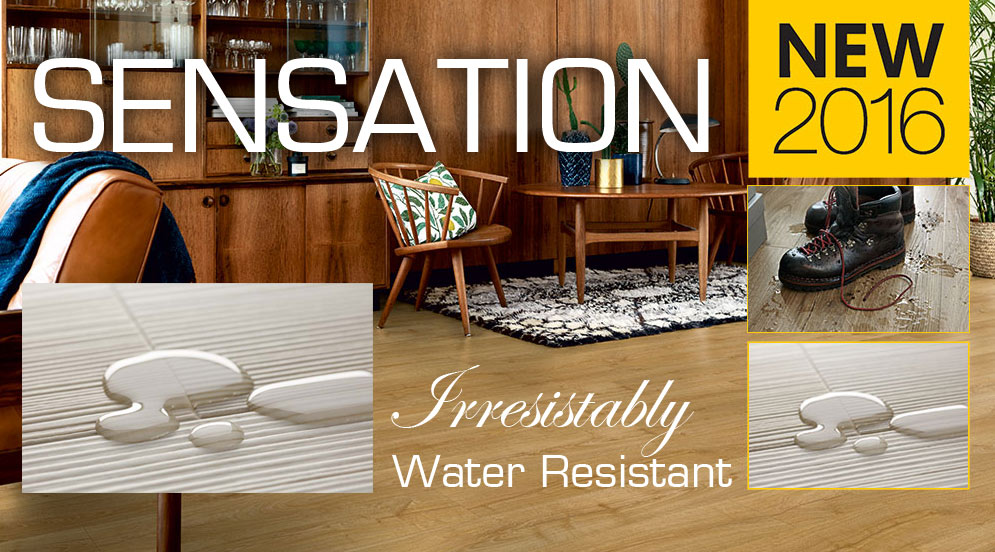 PERGO® SENSATION is Irresistibly water-resistant.
PERGO® Sensation takes laminate flooring to a whole new level – even when it comes to water resistance. No more worrying about getting water on the floor, here is the perfect alternative for kitchens or hallways!
IMPERMEABLE QUALITY
The new PERGO® Sensation floors are not only designed to look great, they are also innovative when it comes to performance.
With the brand new AquaSafe technology your new laminate floor is now protected against water like never before. The surface protection of our new Sensation floors extends all the way into the bevels to create a fully closed surface.
In addition, a water repellent coating on the plank edges ensures that water cannot penetrate the floor. Being water-resistant, a Sensation floor is also hygienic. Dirt – just
like water – simply stays on the surface and can be wiped away easily. So it's safe to say that in terms of design as well as performance, the new Pergo floors are nothing
short of a sensation!
UNILIN's R&D team has spared no effort to make PERGO® Sensation as water resistant as possible. While a laminate surface is water repellent in itself, the joints are often not. Sensation solves this problem in two ways: first, by pressing the bevel into the plank already during production — instead of adding it afterwards; and, secondly, by adding a waterproof AquaSafe coating in the joint making the joint completely water tight.
Because the bevel is pressed down during production, the multilayer TitanX™ surface protection covers the bevels as well. This ensures a fully-closed surface and protects the floor not only against water, but also against impact, scratches, and everyday wear and tear. This makes Sensation the ideal flooring solution for highly trafficked areas. Sensation is available in two qualities, class 32 (AC4) and class 33 (AC5).
Download Brochure to learn more: