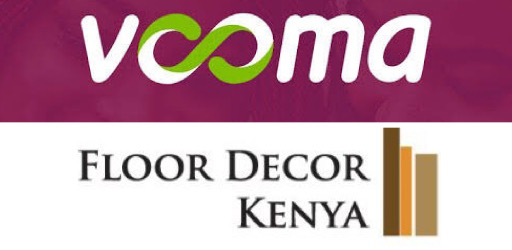 We Have Joined the VOOMA Family! Our Beautiful floors are waiting!
A perfect floor is the key step for transforming a great house into a beautiful home. That's why we offer all our clients' Innovative and competitive ways to pay for your dream Floor coverings.
Over the years Floor Décor Kenya have offered many ways to pay for their new floor coverings. If you aren't able to purchase using cash, we have teamed up with KCB once again to provide you with an alternative, faster and flexible payment mode to make your next purchase at our Showrooms easier.
As you consider the flooring that fits your lifestyle. We have made it possible for our clients' buy our range of flooring and accessories via VOOMA.
WHAT IS VOOMA AND HOW DOES IT WORK? 
VOOMA is a mobile money wallet by KCB that enables individuals to pay merchants for goods and services (P2B), borrow loans, B2B transfers, save money via your phone and other value add services.
Benefits of VOOMA
Convenience

One stop shop for all your payment needs

Speed: Real time settlement of funds

Access to more payment services

Ability to validate payments before completing a transactions

Privacy

Freedom of choice: shop regardless of the network you are on.

You don't have to be a KCB bank account holder.
Special Financing Promotion:
Enjoy a 10% off at all Floor Décor Outlets on purchases made using Vooma and much more…
How to Get Vooma in Your Phone:
Dial *844# and follow the simple steps; or

Download the VOOMA App from Google Play Store or iOS App Store and register.
Here's how it Works:
Floor Décor Kenya Vooma Paybill is 113388. Account Number will be your name.
Using *844#

Using VOOMA  App

Select VOOMA

 

Paybill
Enter 113388
Enter account number: 'Your Name'

Enter amount

Enter PIN

Confirm

Select VOOMA

 

Paybill
Enter 113388
Enter account number 'Your Name"

Enter amount

Enter PIN

Confirm
VOOMA says Life is about being in control! Here at Floor Décor Kenya we say.. we want beautiful Things to Last! Let us help make your dream project a Reality! No fuss! No wait! No worries!
Get your buying power and convenient payment option you need so you can purchase the floor you have always wanted! Pay via VOOMA today at any of our Floor Décor Kenya Outlets Countrywide!